a girlfriends' getaway for dream defenders
Join us for our second Camp Well experience. Imagine a modern twist to your childhood summer camp days. Instead of sleeping in bunkbeds and dining in mess halls, we will be lodging at Hoffman Haus, a luxury bed and breakfast in the heart of Fredericksburg, Texas. This Camp Well session will be a more intimate experience and perfect for coming with your best friend or dream defender! Ever since we launched The Well Studio we have longed to gather and encourage this weary tribe of dreamers and doers and entrepreneurs….to create a space where we could all reflect, refocus and rest in the midst of our busy full lives. We dream big dreams and try to do it all and often times get distracted, off course and weary in the process. So we invite you to join us this spring at CAMP WELL.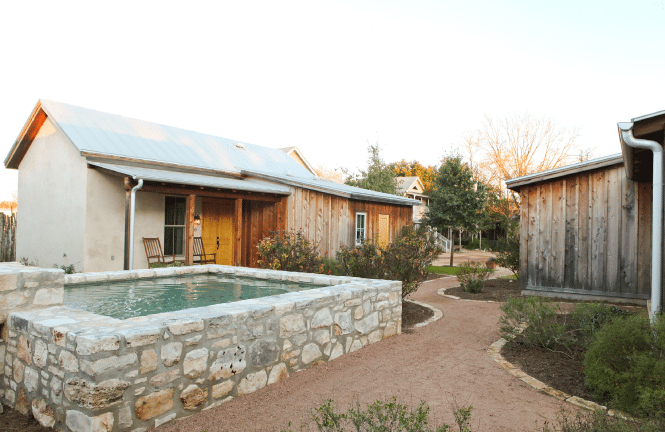 HOFFMAN HAUS in FREDERICKSBURG, TX
Our base camp will be the beautifully Hoffman Haus where our workshops and sessions will be hosted during the days. All pricing for this session includes lodging. (note: this is different from our past Denver session)
The two closest airports are:
Austin–Bergstrom International Airport – 1hr 30min from Fredericksburg
San Antonio International Airport – 1hr 10min from Fredericksburg
Camp Well will be four days of the perfect balance of workshops, breakout sessions, one on one mentor sessions, an outdoor experiences that will be the catalyst for:
Reflecting on our gifts & identity and shedding fear and distractions
Refocusing our values and priorities
Resetting our goals with strategy
Resting from the busy and overwhelm
Rejoicing in the Lord's authorship of it all, lots of laughs, late night chats and wine of course
Camp Well is for the woman who needs a break from the busy to rest and refocus on the big dreams she has in life, ministry and/or business. It's the perfect experience for:
The overwhelmed dreamer who doesn't know where to start
The weary doer who needs rest
The busy business owner who needs to reset her strategies and find answers to questions
The inspired servant who wants to start a non-profit
The unvalued leader who needs to be reminded of their "why"
The lonely mom who has lost her identity
The ambitious professional balancing career and dreams
It doesn't matter if you are already living the dream or still dreaming up the dream Camp Well is an experience for you. The team does an incredible job creating a personalized environment for your soul to breathe while filling you up with inspiration, strategy and challenging goodness to marinate on for months to come. You will leave with vision, clarity and a restfulness about your heart that perhaps you haven't felt in a long time.

Carey Bailey
We have curated an experienced team of camp counselors that will serve as mentors, dream defenders and cheerleaders as you sort through your dreams and pray through them all.  Below is a list of topics we will be covering each day. Day two will consist of breakout sessions that will be strategically designed for your needs. We will be engaging over the next few months with our registered attendees to find out exactly what you need and craft sessions to meet those needs. Topics may include: branding, marketing, PR, social media, starting/running a non-profit, ministry leadership, creating a family mission, self publishing in addition to others.
Check into hotel anytime after 3pm
5:30p Welcome Reception
7:00p Dinner
Sessions throughout the day will include the following:
Identify how you are uniquely made and gifted
Reflect on your personal values
Define what success looks like for you
Dreamscaping
Shedding distractions, fears and comparison
Dreaming God's way
Sessions throughout the day include:
Prioritizing our dreams
Strategies for next steps
Collaboration
Outsourcing & Resources
Productivity & Organization
Myths about Money & what the Bible says
Discipleship & The Gospel  – what does this mean for dreamers and doers
Breakouts & Mentoring- this is where we really drill down and create smaller group sessions and mentor opportunities.
Breakfast
Recap and Goodbyes
Send off to do amazing things!
Stay tuned, we'll be announcing more counselors soon.
WHAT YOUR INVESTMENT INCLUDES:
Meals – All meals and cocktails
Shared Lodging – (different from our Denver experience) one ticket includes a king or queen single bed room that will be shared with one other person
Offsite experiences – includes transportation to and from
Sessions – Full access to workshops and breakouts that cover both life and business – tailored to your needs
Mentoring – Opportunities to meet one-on-one with our camp counselors
Pre-camp consult – within the 2 months before Camp Well, you will get to do a one-on-one 30 minute consult with one of our camp counselors.
Gifts from our amazing sponsors
Headshots taken by our camp photographer
Surprise upon surprise – we promise it will be an experience like no other
WHAT IT DOES NOT INCLUDE:
Travel – Their are two major airports within in an 1.5hr drive to Fredericksburg: Austin & San Antonio. Feel free to rode trip, fly or connect with other campers coming
pricing starts at $1547 per person
SPACE IS LIMITED TO 40 CAMPERS ONLY.
aka: questions you may still have
When should I book my flight to arrive?
We will have a Pamper Station at the hotel for all our weary travelers to freshen up. It will be open from 2p-5p on Sunday the 1stt. You can check into Hoffman Haus any time after 3pm.  Our Welcome Session begins at 4:30 and cocktail reception begins at 6:00. The airport is about 30min from downtown. If you want to arrive earlier you can check your bags into the hotel and explore main street. There is plenty within walking distance.
What if I am not an entrepreneur, should I come?
Yes. This experience is for dreamers, doers, builders, creators, makers, ministry leaders, non-profit starters…..any woman who has a dream to live life or do work with great purpose, using the unique gifts and talents that God has given her.
Do I have to be a Christian to attend?
You do not need to be a Christian to attend. But we will be honest and forthcoming as to what to expect. The foundation of our event is faith based reflecting our trust in Jesus Christ. We will be talking about God and how He is the author of our dreams and giftedness as well as praying at different times throughout. We desire everyone to come as they are.
What do I need to wear?
We are adament everyone feels comfortable. There is no dress code and we won't be having any fancy dinners. We want you to dress comfy. The average high is 81 and the average low is 65. We will be outside in the evenings so dress accordingly. There will be one outdoor "easy" hike – so bring appropriate clothes. There will also be an "optional" yoga session.
How do I find a roommate?
We are calling this Camp Well session – the girlfriends' dream defender weekend – it's the perfect session to come with our bff! This session at Hoffman Haus is a different experience in that you will be sharing a queen or king bed with your "bunkmate". If you have a friend coming with you, either buy both tickets for the same cottage OR make sure your friend buys at the same time.  If you happen to register for a cottage and don't have a friend joining you, we will place you with the other person who purchased that same cottage.
Are we doing any difficult hikes or physical activities?
Nothing difficult. We are no super athletes so we are not expecting anyone else to be:) There will be an optional "light" yoga session as well as a low key hike. If you are concerned you may not be able to participate, feel free to email us with concerns.
Will we be only be talking about business?
NO! Our first day sessions are focused on identity, gifts, values and goals that can be applied to both life or business. But we will be crafting our breakout sessions to drill down more on specific business (and life) strategies based on the needs of the campers. For example these could cover: creating a family mission statement, leading in ministry, branding/marketing, productivity, creating more time & money, etc.
Are we camping out?
Although we think glamping is fun, we will not be camping out. We will be laying our heads each night on comfy beds at the Hoffman Haus. We LOVE the idea of channeling our summer camp days and spreading the this laid back adventurous theme through our experience.
Can I bring my kids or family?
We desire this time away is focused solely on you, so we strongly encourage you to make arrangements for your children to stay back at home with family or friends. This time is for you to focus on you, enjoy late night chats and spend some much needed time alone with the Lord.
What is the agenda?
We are so excited about ALL of the surprises we have planned throughout the 4 days. But here is a tentative schedule: Sunday April 30
4:30 – Welcome Session
6:00p-7:00p – Cocktail hour
6:45p – Dinner
Monday May 1 -Let's Dream – work through values, mission, fears and do some dreamscaping.
8:00a – Breakfast
9:00a – 12noon – Morning Sessions
12noon – Lunch
1:00-5:30 – Afternoon Sessions & Free time
5:30p-6:30p – Happy Hour
6:45 – 10:00 – Dinner
Tuesday May 2 – Let's Do – goals, strategies, action steps, breakouts designed for your individual field of interest, time for one on one mentoring with our camp counselors 
8:00a – Breakfast
9:00a – 12noon – Morning Sessions
12noon – Lunch
1:00-4:30 – Afternoon Sessions & Free Time
4:45p-6:45 – Offsite Experience
6:45 – 10:00 – Dinner
Wednesday May 3 – Let's Go
8:00a – Breakfast
9:00a – 12:00a – Closing Sesssion
REGISTRATION OPENS OCTOBER 7th!
pricing starts at $1547 per person
If you would like to join us as a Brand Partner for Camp Well, shoot us an email!
Cannot get other user media. API shut down by Instagram. Sorry. Display only your media.